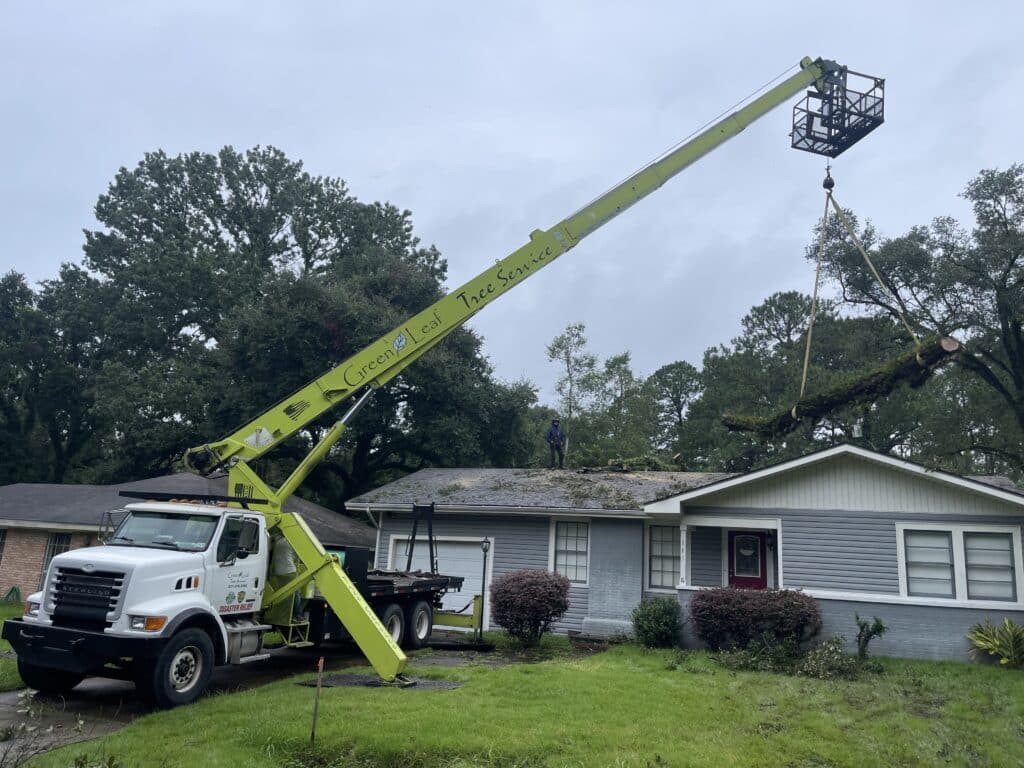 Need to Remove Dead or Unwanted Trees?
Let the Louisiana Tree Removal Pros Handle It!
Removing your own tree is a hazardous task. Don't risk the DIY approach. Call a highly trained professional team to remove trees from your home or business safely. Our team of tree experts has more than 18 years of experience in safely cutting and removing trees. Ensure your and your family's safety by having Green Leaf Tree Service handle your tree removal project.
Signs That You Need Professional Tree Removal Services
If you suspect a tree is damaged beyond repair, consult with one of the experts at Green Leaf Tree Service of Lafayette, Louisiana. We'll assess the state of your trees to determine if their health can be restored or if they need to be removed. We'll also explain the signs to look for when you suspect a tree might need to come down in the future.
Why Should You Hire Green Leaf Tree Service to Remove A Tree?
Safety First
We prioritize safety above everything else. Our skilled team follows industry best practices and utilizes advanced equipment to ensure that the tree removal process is carried out safely and without any damage to your property.
Experience & Expertise
With years of experience in the industry, we have encountered every possible tree removal scenario. Our expertise enables us to handle even the most challenging tree removal projects, no matter the size or complexity.
Efficient & Timely
We understand that your time is valuable, which is why we strive to complete each job efficiently and on time. Our team works diligently to ensure that your tree removal needs are met promptly, making the process as convenient as possible for you.
Affordable Pricing
We believe in providing quality tree removal services at affordable prices. Our pricing structure is designed to fit within your budget while never compromising on the quality of our work.
Customer Satisfaction Guaranteed
Our ultimate goal is your complete satisfaction. We go above and beyond to ensure that every customer is happy with our services. From the initial consultation to the completion of the project, we are dedicated to providing exceptional customer service.
Request A Free Quote For Tree Removal